Revolutionising human-tech relationship.
In a yet-to-be-released TED talk, ex-Apple exec and the founder of startup Humane, Imran Chaudhri demonstrated the first version of the next-generation AI-powered projector-based wearable device in a very impressive demo.
The wearable is a standalone device built for artificial intelligence (AI) that interacts with the world and offers privacy, safety, and seamless integration with its surroundings. It does not require a smartphone or other device pairing. The AI-powered wearable boasts multiple features, such as displaying an incoming call interface as soon as the wearer raises their hand, translating voices into different languages, and providing a quick list of essential missed information. It can also suggest gifts, offer health advice, and use LED lights to indicate when it's listening. The device includes a camera and one or more sensors. Humane's design seeks to replace screens for computers, smartphones, tablets, and smartwatches, revolutionising the human-technology relationship.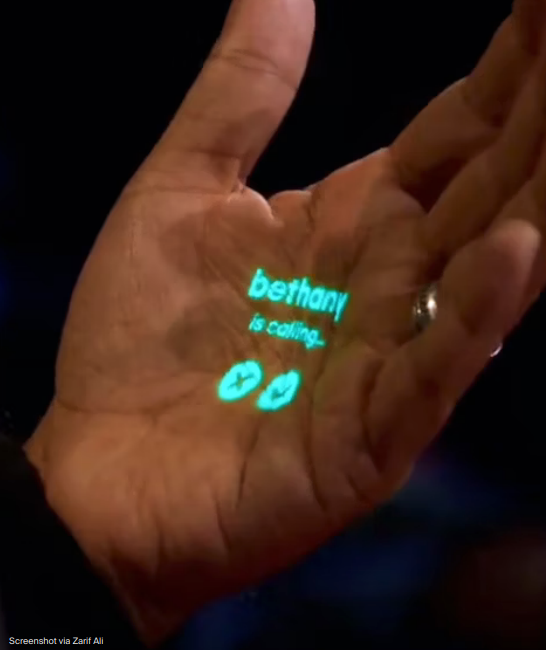 What is known about the Humane AI-powered wearable device:
It is built entirely from the ground up for artificial intelligence
It is AI-powered
It has a projection display and can project information (such as a phone call) onto the user's hand
It can act as a personal assistant
It is a standalone device (does not require a paired smartphone)
It can respond to voice commands and supports gesture commands
It provides summaries of missed emails, calendar invites, and messages (a feature called "Catch Me Up")
It includes a camera to identify objects in the world around it
Through camera input, it can give personalised food advice based on the user's dietary requirements
It has translation functionality for spoken sentences with the user's own voice and emotion
What is not known yet about the Humane wearable device
The name, pricing, and availability.
Tech details: Operating system, battery life, connectivity options, storage capacity, compatibility with third-party apps, support of different languages/accents, and accessibility features for users with disabilities.
Usability: Since the device responds to voice and gesture commands, this could make it challenging to use in noisy or crowded environments. Also, it is unclear how usable it will be in bright-day light and in fog, and high humidity, where water droplets in the air can create an unintentional screen and display all the information in the air instead of projecting it to a surface.
Privacy and security: It's unclear how the collected data will be stored and secured.
Comfort: It is unclear how the device is supposed to be attached. During the presentation, Imran Chaudhri kept the Humane wearable device in a small (probably custom-made) pocket in his jacket.
About the company:
Humane is a startup founded by ex-Apple employees Imran Chaudhri and Bethany Bongiorno
Its mission statement is "We believe in building innovative technology that feels familiar, natural, and human. Technology that improves the human experience and is born from good intentions. Products that put us back in touch with ourselves, each other, and the world around us. Experiences that are built on trust with interactions that feel magical, and bring joy. Humane was founded on the principle that we all deserve more from technology".
Humane has raised $230 million from investors, including SK Networks, Salesforce CEO Marc Benioff, LG Technology Ventures, Microsoft, Volvo Cars Tech Fund, Tiger Global, Qualcomm Ventures, and Sam Altman, OpenAI CEO and co-founder.
Humane is partnering with SK Networks and Microsoft for distribution and cloud processing power respectively.
The company also collaborates:

with OpenAI to integrate its tech into the startup's device
with LG on R&D projects for the next phase of its product life-cycle as well as adapting Humane's tech for smart home devices
with Volvo on a potential automotive industry offering.

Imran Chaudhri with co-inventors holds a patent on 'Wearable Multimedia Device And Cloud Computing Platform With Laser Projection System', which describes "A body-worn apparatus comprising: a camera; a depth sensor; a laser projection system; one or more processors; memory storing instructions that when executed by the one or more processors, cause the one or more processors to perform operations comprising: capturing, using the camera, a set of digital images; identifying an object in the set of digital images; capturing, using the depth sensor, depth data; identifying a gesture of a user wearing the apparatus in the depth data; associating the object with the gesture; obtaining data associated with the object; and projecting, using the laser projection system, a laser projection of the data on a surface."
Resources:
---